My houses, in order of newest to oldest.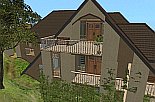 Romano
started off as being yet another replica house from real life, but I have played around with it so much that it is no longer recognisable to the original. I really like the roof, curved archways and side-paths in this house.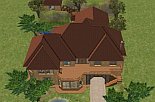 Aneuri
shares the same basic floorplan as my friend Sooz's house... although I did mikeinsideify it a bit :p Doing this house was a great way for me to learn about working with split-levels.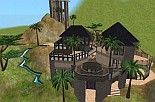 Gyfu
holds the record as being the house that took the longest for me to do.
The word Gyfu roughly translates into english as "Gift."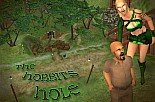 A lot of people requested this, and I wanted to see if I could make a house that looked as if it was underground.
Hobbit's Hole
was the result. It only took 2 or 3 hours to make, and was a nice break whilst I was working on Gyfu.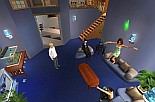 Lakrid
is based on my friend Sam's house. I had tried to make this house when I first got the game, but was unable to, due to not knowing enough about using stairs. I was glad to finally be able to finish it!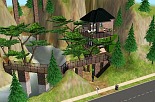 Someone once asked me what the word fjord meant. I should thank them, because as I was explaining the meaning of it, I got the inspiration for this house. I can't remember why I ended up calling it
The Ravine
instead of the fjord though.
After I had finished doing the terrain for it, it sat untouched for about a month before I worked out what kind of house I wanted on it. I am quite happy with the result, though I think I used too many trees.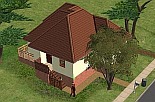 I had originally planned to create a whole series of budget houses... until I realised how boring it was to do :p So
Ream
is still my one and only cheap house.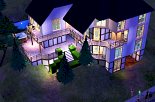 Konseal
... I really like this house, but unfortunately it is plagued by bugs. The worst of which is the bug which makes connecting staircases impossible to delete. If you know a solution for this problem, please contact me so I can fix it.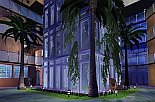 The Atrium Hotel
was originally supposed to be just a medium sized, cozy house. All I had in my head when I started building it was the idea of a house with an Atrium as the centerpiece. But I just kept adding more and more on to it until it became the monstrosity it is today. As a house, it would be ridiculously big, as a hotel, it would go out of business within a week because it is too small... so I guess its kinda a pointless building... but at least its nice to look at :p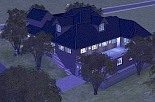 The Tech House
is based on the sharehouse that I was living in, in 2004.
Because of the curved footpath and road, it is awfully buggy, and yet it is currently my most frequently downloaded house. The reason that it is called the tech house is because we had 4 people living in it, all doing a degree in Games Technology. Hence the over-abundance of computers in the house.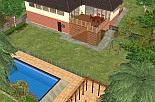 Pymble
is almost an exact replica of a friend's house. Copying a real life house is always good when you are feeling uninspired :p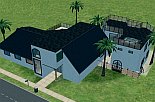 Freeman Road
is only the third house I built... but it is still probably my alltime favourite.
It was doing this house that I first discovered modular stairs.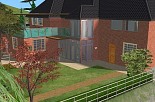 I built
My House
and by doing this, learnt how to create basements, and so wrote my first tutorial the day after the game came out. (which is why my basement tutorial sucks so much) One day I plan on redoing this house, with all the knowledge I currently have... that is when I will put it up for download.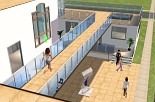 When I first got the Sims 2, building
Breezeway Mall
was the very first thing I did when I got the game. I was quite disapointed how little there was to add to shopping malls, and I have not built any more community lots since then.
Half-made houses, that might one day be finished:
Span
A house built on stilts, in a forest. This one is the closest to being finished, so will probably be in my next house update, whenever that may be.
Crazy-Go-Nuts University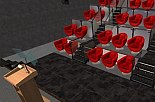 I starting building this before news of the expansion was released... when it was, my enthusiasm for building this suffered a lot. A lot of people have requested it, so hopefully I will get in the mood to finish it soon.
Fallenangel
A gothic building, lots of recoloured objects, walls and floors.
Chatsfield Train Station
My local train station... not really functional, its just for fun.
Driftwood Chalet
Simple lodge built into a mountainside... possibly with a snow theme.
Purity
Based on the sharehouse I am
hopefully
moving into next month.
Something Apartments
I had a really cool name for this place.... but I forgot it. So now it is called
Something
.
Large complex with underground parking.
Henderson House
Based on a house a friend just moved into with their new baby.
Soma Trope
Another apartment. Based around a large circular stairwell. Might end up being larger than 6 stories high...
A couple of small low-cost houses, for sims on a budget
Yeah, I've been saying this for a while... I'll get around to it... one day.